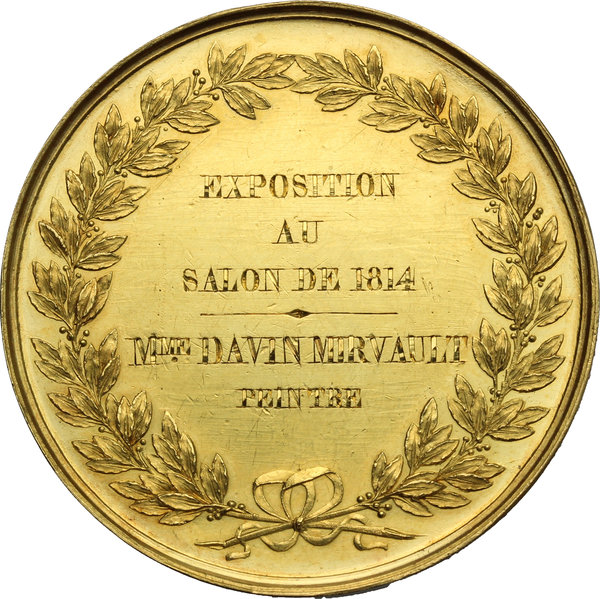 Lot 708:
France.
Louis XVIII (1814-1824), King of France.
Gold prize medal Salon 1814 awarded to the painter Césarine Davin-Mirvault.
g. 68.84
mm. 40.50
Inc. Bertrand Andrieu.
RR.
EF+.
Césarine Davin enjoyed modest success as a painter of portraits and narrative paintings in both oils and miniatures. Having studied miniature painting with Jean-Baptiste Jacques Augustin (1759-1832) and oil painting with two rival history painters, Joseph-Benoît Suvée (1743-1807) and Jacques-Louis David (1748-1825), she regularly exhibited in both media at the Louvre Salons from 1798 to 1822. Her work garnered two awards: a second-class medal at the 1804 Salon and a gold medal at the 1814 Salon. The 1814 prize acknowledged her painting of the Death of Malek-Adhel, which must have been an exotic scene based on the popular 1805 novel Mathilde, ou Mémoires tirés de l'histoire des croisades (Mathilde, or Memoirs from the history of the Crusades) by Sophie Cottin.
Base d'asta € 4000
Prezzo attuale € -
Bids: -
LOTTO NON IN VENDITA - LOT NOT ON SALE